Related Articles
« MO »
About the Author
The silly and sleepless Mistress McCutchan, otherwise known in the real world simply as Laura, created Morbid Outlook in August of 1992, while still a gothling in high school.

She is a full-time, senior web designer, DJ, and director of The Serpentina North Ensemble. She is vegan, but not one of the pushy ones. When not on the road or working like a maniac, she can be found becoming one with the couch, especially if Three's Company is on.
« MO »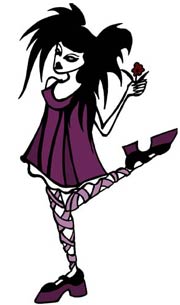 Lolita Galore
Mistress McCutchan
The last image in the second row was submitted by Hamu, who designed and made her own dress. She was inspired by a female Japanese Rocker, Kanna, who usually wears dresses made in the ESL style, Elegant Sweet Lolita. The idea behind ESL is dressing in a cute Alice in Wonderland style.
In the sixth row, Bailey is modeling a white Sweet Lolita style of her own design.
In the last row, Alexis shares the outfit she wore on her first date with her boyfriend/fiance. Most of her garb was purchased via eBay.
Gothic Lolita Gallery