Related Articles
« MO »
About the Author
The silly and sleepless Mistress McCutchan, otherwise known in the real world simply as Laura, created Morbid Outlook in August of 1992, while still a gothling in high school.

She is a full-time, senior web designer, DJ, and director of The Serpentina North Ensemble. She is vegan, but not one of the pushy ones. When not on the road or working like a maniac, she can be found becoming one with the couch, especially if Three's Company is on.
« MO »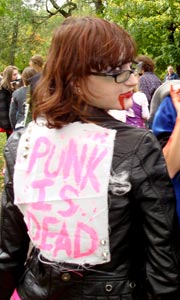 Photo |
Mistress McCutchan


The Toronto Zombie Walk 2009
Mistress McCutchan
The Toronto Zombie Walk
began as a pre-Halloween stumble through the streets in 2003 and has grown tremendously in the past several years. This year's route began in Trinity Bellwoods Park along Dundas up to the Bloor Cinema. Being a zombie can be infectious and apparently the annual walk also takes place in Vancouver and San Francisco.
Photos by Mistress McCutchan